John Larch in Dirty Harry | 1971
Clip Name: What's the Next Move?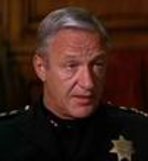 John Larch in Dirty Harry | 1971
About this actor
John Larch (October 4, 1914 - October 16, 2005) was an American film and television actor. After his lead role in the radio serial Captain Starr of Space (1953–54), John Larch entered films in 1954. He usually appeared in westerns (How The West Was Won) and action films, including Miracle of the White Stallions as General George S. Patton Jr. (1963), Collision Course: Truman vs. MacArthur as General Omar Bradley (1976), replacing James Gregory as Mac in the Matt Helm movie The Wrecking Crew (1969) starring Dean Martin, Sharon Tate and Elke Sommer. Larch, an old friend of Clint Eastwood, appeared in Eastwood films, including Dirty Harry (1971) and Play Misty for Me (1971). He also appeared on a number of television programs, including The Invaders, The Restless Gun (four episodes), Bonanza, Hawaii Five-0, Mission Impossible, The Troubleshooters, Bus Stop, Laramie, The Law and Mr. Jones, and possibly most famously as Bill Mumy's father in The Twilight Zone episode "It's a Good Life" in...
Related movies by Genre

1

OF

3
Related movies by Actors

1

OF

3
Related movies by Directors

1

OF

1
Starring: Steve McQueen,Bobby Darin

Starring: Clint Eastwood,Patrick McGoohan