It's Complicated | 2009
Clip Name: Married to the Same Man!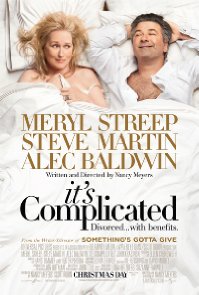 About this movie
It's been ten years since their divorce, so it's quite about time that Jane (Meryl Strip) and Jake (Alec Baldwin) became civilized with each other again. But what happens after their son Luke's graduation ceremony brings their relationship to a whole new level – or, perhaps, an old one. Now Jane has to deal with the fact that she's become "the other woman", her children have to deal with the fact that their parents are having an affair, and Jake has to deal with his wife. When Adam stumbles into the lives of the Adler family, things get really complicated.
Related movies by Genre

1

OF

3
Related movies by Actors

1

OF

3
Related movies by Directors

1

OF

1
Starring: Cameron Diaz,Kate Winslet

Starring: Robert De Niro,Anne Hathaway